In November 2018 i replaced the Behringer DX2000USB and installed a D&R Airlab DT Broadcast mixer, it needed some cutting in my desk, but it was well worth it.. :)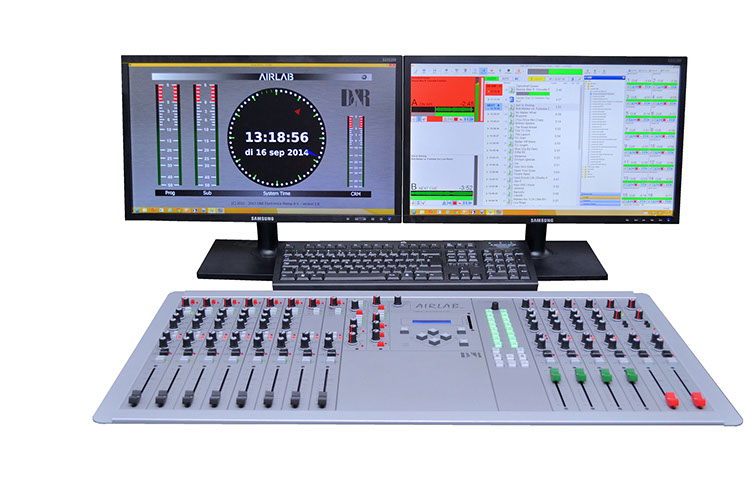 The AIRLAB-DT radio ON-AIR console is an extremely reliable solution for applications where features and functions has to be weighed up against operational simplicity. It's analog, digitally controlled signal path is the best solution of both worlds to achieve a reliable workhorse under any condition.
With over 900 units in the field, the Airlab-DT has proven to be a successful centerpiece in many ON-Air studios.
A simple direct accessible control surface combined with intelligent instantly reset able digital functions enables customizing to station requirements and even to personal requirements because of the use of a personalized chip card holding all important functional data.
Purchasing choices are straightforward: the welded steel frame will accommodate a maximum of 16 triple input modules, which could include an unlimited number of Telco (or VoIP) modules (up to 16 of course) plus the master section with script space. There is a control module available to control Play-out systems over USB and this module takes 2 positions. The main outputs are electronically balanced and the majority of connectors are on balanced XLRs.
For more info about this broadcast mixer please visit https://www.d-r.nl/
I Removed a telco strip and added a VOIP strip in December to receive voice calls from SL/Discord e.d.
Connected Inputs to the mixer are:
3 USB outputs from Mairlist, player 1, player 2 & the cartwall holding all the dj drops, sound fx etc.
1 USB input from SL, i use this channel to listen back the stream, monitor volume and sound quality, i use it for take & hand over the stream so i can hear the stream from sl directly in my headphones
1 microphone dry channel, no fx on this mic channel, only routed through the pre-amp
1 microphone "wet" channel, the microphone is routed through the pre-amp & De-esser/reverb processor
2 channels from the dual cd player, yeah! i still have one.. call me old fashoned :)
2 channels from 2 mini disk players
1 balanced channel from the mixing console
1 USB input for SLVoice/Discord
Outputs: