Sunday morning set "The Sunday Service" episode 233 stay tuned for episode 234,
Sit back, Relax, Drift away on 2 hours of the latest tracks in this weeks Beatport Trance Top 100, enjoy!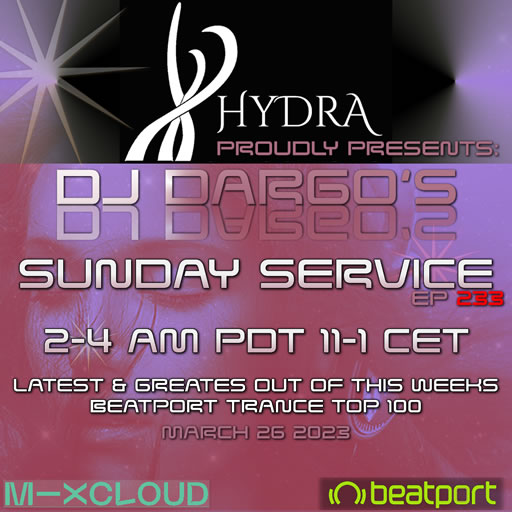 Like to visit my set live? from the comfort of your home?
check here > Visit my sets
This is not a pre-produced set, its build on the fly with new tracks.
No Key-lock, Sync, Quantize or Snap. Live recorded.
Please Follow, Favorite & Re-post if you like my sets.
Stay Real ♪♪♪♪ Stay Tranced! ♪♪♪♪ Stay Healty
♥♥♥♥ Hugs&Love ♥♥♥♥ all the way
Thank you... And please stay safe
DJ Dargo.
Playlist:
DJDargo - Sunday Service Intro - Sunday Service Intro
Ruben Karapetyan - Meteorite (Jerome Isma-Ae Remix)
Ginchy & Johan Gielen - Loops & Tings (Extended Mix)
Dylhen - Mind Rewind (Extended Mix)
Yotto & Something Good - Rhythm (Of The Night) (Extended Mix)
Man With No Name - Teleport (Save the Robot Remix)
Austin Pettit - Prism (Extended Mix)
Eelke Kleijn - Transmission (Armin van Buuren Extended Remix)
Delerium ft. Sarah McLachlan - Silence (Andrew Rayel & Achilles Extended Remix)
Alpha 9 - Rhythm of Your Heart (Extended Mix)
Ahmed Helmy, D72 - Analogy (Extended Mix)
Markus Schulz X Paul Oakenfold - Pendulum (Extended Mix)
Maarten De Jong - Bamboo (Extended Mix)
Roger Shah & JES - New Horizon (Extended Mix)
York - The Awakening (NRG Trax Extended Remix)
Ronski Speed & Lucy Saunders - Calm Before the Storm (Ferry Tayle Extended Remix)
The Doppler Effect & Carol Lee - Beauty Hides In The Deep (James Dymond Extended Mix)
Roman Messer & Alex M.O.R.P.H. - CYBERIA (Extended Mix)
Renegade System - Red Lights (Original Mix)
Talla 2XLC - Phenomena (Extended Mix)
Nikolauss - Rewind (Extended Mix)
Tranzvission - Resilience (Extended Mix)
B.E.A.R - Lost (Extended Mix)
Dominant Space - XTC (Original Mix)
This list was generated at Slipmat.io
If you do not have a mixcloud account you can find the latest 10 sets here link