Uplifting Trance - DJDargo's Sunday Service EP118 WK02 Jan 10 2020
I wish everyone a happy and healthy 2021!

Sunday morning set The Sunday Service EP118 stay tuned for EP119,
Sit back, Relax, Drift away on 2 hours of carefree Trance, enjoy!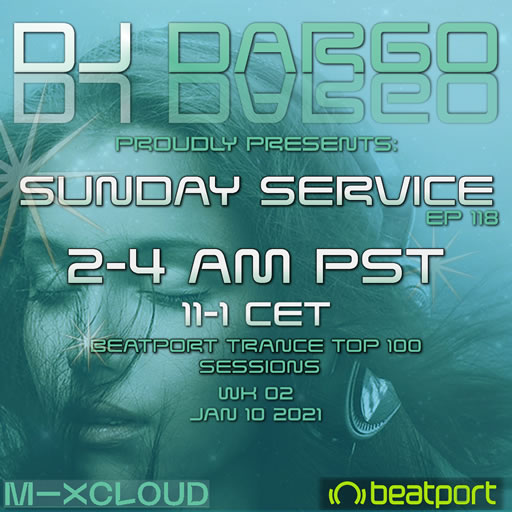 Like to visit my set live? from the comfort of your home?
check here > https://djdargo.nl/news/155-visit-my-sets
This is not a pre-produced set, its build on the fly with new tracks.
No Key-lock, Sync, Quantize or Snap. Live recorded.
Please Follow, Favorite & Re-post if you like my sets.
Stay Real ♪♪♪♪ Stay Tranced! ♪♪♪♪ Stay Healty
♥♥♥♥ Hugs&Love ♥♥♥♥ all the way
Thank you... And please stay safe
DJ Dargo.
Playlist:
Souya - Reunion (Extended Mix)
SUBMERSIVE & Linney - All Alone (Extended Mix)
JEHRY, Any van Mous - Blue Orion (Original Mix)
Kenny Palmer - Blade's Edge (Extended Mix)
Ferry Corsten & Trance Unity - Free (Extended Mix)
Ashley Wallbridge, CVNT5, Gareth Emery - CVNT5 Of The Caribbean (Extended Mix)
Vision X & Impulse Wave - The Juggernaut (Extended Mix)
BT & Matt Fax & Nation Of One - Walk into the Water (Heatbeat Extended Remix)
FAWZY & Angel Falls with Han Beukers - Agnieszka (Extended Mix)
Andrea Ribeca - Sonance (Extended Mix)
Soul Lifters vs Kiran M Sajeev - Instigator (Extended Mix)
Billy Gillies - Expand (Extended Mix)
1st in Line - The Arrival (Extended Mix)
Hassan Jewel & Derek Mark - Light in You (Extended Mix)
Michael Angelo & Solo - Every Time We Said Goodbye 2021 (Extended Mix)
Starpicker - Nos Nexum (Extended Mix)
Inoblivion - No Way Back (Extended Mix)
Miikka Leinonen - Savage (Extended Mix)
Leo Van Goch & The Sixth Sense ft. Sevda B - Blinding Lights (Chris SX Remix)
Nth Factor - Escaping Paradise (Extended Mix)
Miroslav Vrlik - It's Your Choice (Extended Mix)
Jody 6 ft Marian - Hold On To Me (Extended Mix)
Yoshi & Razner - Retaliation (Extended Mix)
Paul Denton - Moonwalker (Extended Mix)
If you do not have a mixcloud account you can find the latest 10 sets here link