Uplifting Trance - DJDargo's SL17B-1 Performance #1 June 26 2020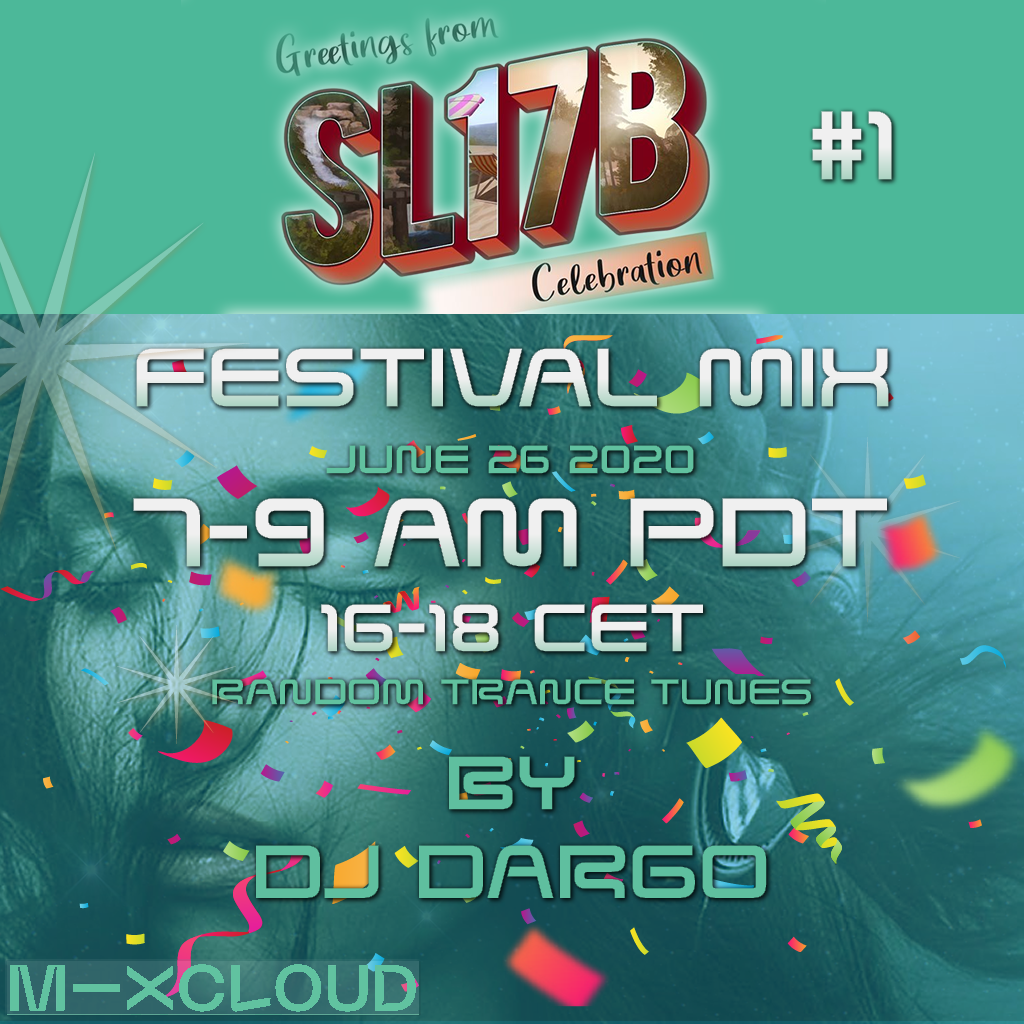 Yaaaay Its time for the Second Life Birthday gash again
What a rush!
I'd like to thank all the volunteers and Second Life moles working so hard to make the festival possible.
Like to visit my set live? from the comfort of your home?
check here > https://djdargo.nl/news/155-visit-my-sets
This is not a pre-produced set, its build on the fly with new tracks.
No Key-lock, Sync, Quantize or Snap. Live recorded.
Please Follow, Favorite & Re-post if you like my sets.
Stay Real ♪♪♪♪ Stay Tranced! ♪♪♪♪ Stay Healty
♥♥♥♥ Hugs&Love ♥♥♥♥ all the way
Thank you... And please stay safe
DJ Dargo.
Playlist:
Armin van Buuren - This Is A Test (Shinovi Extended Remix)
Lost Witness feat. Kate Louise Smith - This Dream (Extended Mix)
Tempo Giusto - The Fall (Extended Mix)
The Conductor & The Cowboy - Sail Away feat. Aero Vaquera (Metta & Glyde Extended Remix)
UCast - Motive (Extended Mix)
Markus Schulz & Christina Novelli - Symphony of Stars (Solis & Sean Truby Extended Remix)
ReOrder & Katty Heath - Meteorite (Extended Mix)
Giuseppe Ottaviani - Tranceland (Extended Mix)
Simon Patterson & Sam Jones - Wipeout (Extended Mix)
Armin van Buuren ft. Josh Cumbee - Sunny Days (PureNRG Extended Remix)
Lady Gaga - Always Remember Us This Way (XiJaro & Pitch Remix)
Key4050 & Plumb - I Love You (Extended Mix)
Steve Dekay & Emanuele Congeddu - Origami (Extended Mix)
Gareth Emery ft. Annabel - You'll Be OK (Giuseppe Ottaviani Extended Remix)
Jody 6 - Coming Down (Extended Mix)
Tony Grand & Yuri Pike feat. Angel Falls - Together Again (Original Mix)
Jam & Spoon - Right In The Night (Nicholson Extended Remix)
Greg Downey & Bo Bruce - These Hands I Hold (Sean Tyas Remix)
Chicane ft Bryan Adams - Don't Give Up (Giuseppe Ottaviani Extended Remix)
Sneijder - Chuck Norris (Extended Mix)
Jorn van Deynhoven - Freaks (Chris Schweizer extended remix)
MaxRevenge - Accelerate (Original Mix)
Solis & Sean Truby with Ultimate & Stine Grove - Your Dawn
Matt Darey, Lost Tribe - Gamemaster (Lightform Remix)
James Dymond & Linney - What Have I Got To Lose (Extended Mix)
Christina Novelli & HAKA - Worlds Collide (Chris Metcalfe Remix)
Nitrous Oxide & Katty Heath - Neverending Dawn Of You (Cold Rush Remix)
Smith & Brown - Pithos (Extended Mix)
Nick Callaghan - Murky (Extended Mix)
Chris Schweizer - Don't Be Scared (Extended Mix)
Tiesto - Suburban Train (Jordan Suckley Remix)
Darude - Sandstorm (Original Club Mix)
Jorn Van Deynhoven - Space Girl (Extended Mix)
Jorn Van Deynhoven & Sue Mclaren - I Need Your Lovin' (Like The Sunshine) (Extended Club Mix)
Craig Connelly & Tara Louise - Time Machine (Extended Mix)